Rhythmic Passion & Dance Tunes From The Exotic To Home-Grown
The Kevin Ferguson Trio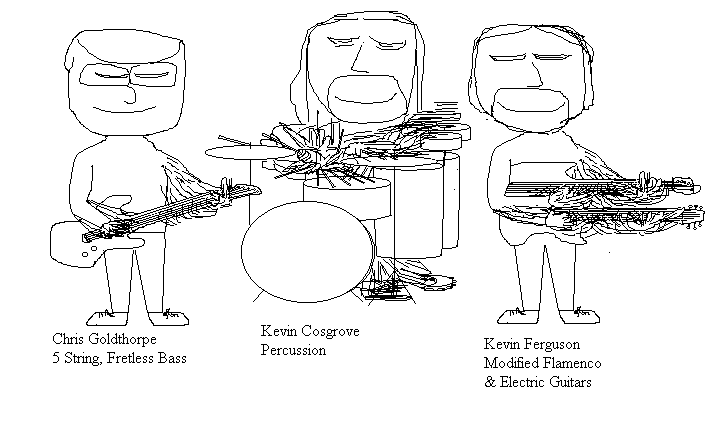 Kevin Ferguson's new (June 2002) trio plays traditional exotic tunes from his CD's and originals with Latin, mid-eastern, Balkan, classical, jazz, rock & other influences.
SHOWS
For complete and up-to-date gig information: click here

Upcoming gig:
Thursday, July 18, 2002, 9:30PM-1:30AM @ Biddy McGraw's, NE 60th & Glisan, Portland, OR. 503-233-1178.

Sunday, July 21 2002, 11:00AM-12:30PM Outdoor concert: Waterfront Park At Ankeny (1 block south of Burside), Portland, OR
FEEDBACK
"...the playing is impressive. Very impressive." -- Mike Taylor, Gibralter (Progressive Rock Magazine)
"Roll Over, Niccolo. Actually, maestro Paganini probably would have approved..." -- Oregonian, A&E, "Best Bets"
"F(Censored)ING BRILLIANT!!!!!!! It's magic stuff. I love it..." -- Douglas Johnston, "The Flying Scotsman," DJ for URY, York, U.K.
"It's bloody amazing what I hear..." -- Richard Karsmarkers, ST NEWS & Bacil Magazine, Netherlands
"Quite amazing and unique work." -- Ford Prefect, The Beginning 87.9FM, Radio Free Seattle
MORE INFO
See debone.com for audio samples from earlier CD's and more information.
CONTACT
Contact tonir@debone.com
PHOTOS