Balkan & Beyond
---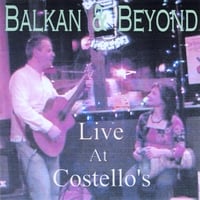 ---
Upcoming Gigs

Watch: Video Of Earliest Version of Balkan And Beyond Listen

Kevin Ferguson and percussionists such as Lara Triback, Chaz Hastings, Michael Beach & Kevin Cosgrove keep performances of traditional and extemporaneous Balkan and other world music interesting with lightning fast passages for the more lively dances such as Rachenitsa and dulcet nuanced interludes for the more mellow dances such as lesno. Tunes are often catered as to the listener and dancer requests as per the dance tune (from a menu) or rhythm requested, from the eastern European complex meters to Middle Eastern to eastern Indian to flamenco to Latin. Traditional melodies and improvisation are employed to create a unique performance every time, so that the music is never the same, yet still accommodating the traditional dance.
Performers:
Kevin Ferguson, Turkish saz & guitar: Balkan & Beyond is the brainchild of Kevin Ferguson who has gigged for over 3 decades both US coasts and in Europe (including as one of a few finalists in the international guitarists competition in Lausanne, Switzerland). His recent accoustic live shows have been compared to such esteemed guitarists as Macedonian Vlatko Stefanovski. Locally, he has played from big events like Sand In The City to live radio broadcasts/webcast (KBOO, KPSU, KKEY), to the Portland Art Museum (Museum After Hours), to many local clubs and some small cafes with musicians such as Noah Peterson, Rick Crittenden, members of JuJuba, Kafana Klub, Krebsic Orkestar and Brothers of The Baladi. Also, he is often invited to play in "elite" jams such as with Leche Cercel at The Fez Ballroom, 5/17/2007. He has 3 CD's, each with rave reviews such as "amazing" and www.guitar9.com best sellers (http://www.guitar9.com/cgi-local/artistnews.pl?artist=Kevin+Ferguson) of genres covering western classical on electric guitar, the music of the regions of the former Ottoman Empire, and many other world and original instrumental music.
For more on Ferguson's bio, see http://www.debone.com/bio.html
For more details of gig highlights, see http://www.debone.com/gigs.html.
Rotating Roster of Percussionists:
Booking:503-525-1944, Email: booking@(no spam)debone.com