KEVIN FERGUSON / BALKAN & BEYOND/LIVE AT COSTELLO'S:
---
This a CD released on April 29, 2008 by composer and instrumentalist, Kevin Ferguson (See below for track details, audio samples, digitial downloads, ordering information, reviews, performance dates, how to get on the mailing list and sheet music transcriptions).

NEW AUDIO SAMPLES BELOW:

Last updated August 3, 2019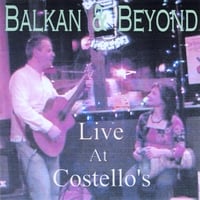 Ferguson's latest CD release, "BALKAN & BEYOND/LIVE AT COSTELLO'S," is his first live album. Lara Triback plays hand percussion instruments.
In this live album of Balkan, Near and Middle Eastern Dance music, some tunes are laced with improvisation while others are arrangements of the traditional melody in cases where dances match the melody. Sounds of dancers dancing and audience members clapping and singing to the music can be heard as well.

---
---
On Line:
Liner notes
BALKAN & BEYOND/LIVE AT COSTELLO'S Liner notes about the music, etc. (Coming soon, Under construction)
---
To get on the email mailing list for performances and recording releases, email mailinglistsuhi@debone.com
---
Click Here for Kevin Ferguson's performance dates.
---
Sheet Music Transcriptions For Electric Guitar
Click here for sheet music transcriptions.
---
Back to Debone Music's Home Page
---
OTHER SLIGHTLY RELATED URL's
Kevin Ferguson's Home Page