KEVIN FERGUSON / BALKAN & BEYOND/LIVE AT COSTELLO'S:
---
This is the latest CD (just released!!!! April 29, 2008) by composer and instrumentalist, Kevin Ferguson (See below for track details, audio samples, digitial downloads, ordering information, reviews, performance dates, how to get on the mailing list and sheet music transcriptions).

NEW AUDIO SAMPLES BELOW:

Last updated October 26, 2008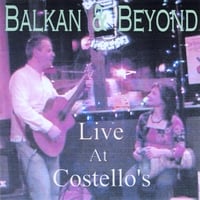 Ferguson's latest CD release, "BALKAN & BEYOND/LIVE AT COSTELLO'S," is his first live album. Lara Triback plays hand percussion instruments.
In this live album of Balkan, Near and Middle Eastern Dance music, some tunes are laced with improvisation while others are arrangements of the traditional melody in cases where dances match the melody. Sounds of dancers dancing and audience members clapping and singing to the music can be heard as well.

---
1) Opa Cupa (Eastern Europe) Underscore Orkestra can be heard singing the verses and along with the audience on the chorus.
2) Rachenitsa Medley (Balkan, 7/16)
3) Aparanee Par (Armenia, 5+5+4/16;5/16)
4) Gazaira (Egypt)
5) Abdala (Balkan)
6) Yamil Abaya (Iraq)
7) Dafino Vino Tsrveno (Macedonia, 7/16+5/16) Underscore Orkestra can be heard on harmonica.
8) Lesno Improv (7/8)
9) Meshano Oro (Original 64 beat tune: 3+2+2+3+2+2+2+3+2+2+3+3+3+2+3+2+3+3+3+2+3+2+3+2+2+2)
10) Olimpijski Chochek (Balkan, 9/16)
11) Makedonsko Devojche (Macedonia, 7/8)
12) Buchimish (Balkan, 15/16)
"...energetic, dance- and party-orientated, hypnotic, tempting, seductive and impetuous. " - Mikolaj 'Nicolo' Furmankiewicz, HMP Magazine's Department of Virtuosity
---
On Line:
Available now at iTunes (http://phobos.apple.com/WebObjects/MZStore.woa/wa/viewAlbum?playListId=279919762 ).
GroupieTunes.com has every track of nearly every album listed.
By Phone:
Call Timbuktunes (Portland, Oregon, USA): 1-503-239-0179 4726 SE Hawthorne Boulevard • Portland, Oregon USA 97215 •
By Mail:
Liner notes
BALKAN & BEYOND/LIVE AT COSTELLO'S Liner notes about the music, etc. (Coming soon, Under construction)
---
To get on the email mailing list for performances and recording releases, email mailinglistsuhi@debone.com
---
Click Here for Kevin Ferguson's performance dates.
---
Sheet Music Transcriptions For Electric Guitar
Click here for sheet music transcriptions.
---
Back to Debone Music's Home Page
---
OTHER SLIGHTLY RELATED URL's
DeBone Music's Catalog including other CD's by Kevin Ferguson.
CD 1: Violin music (Bach, Paganini, more) on electric guitar: STRAD TO STRAT, Kevin's first CD.
Ferguson's second CD: EXOTIC EXTREMES electric guitar versions of gypsy, Balkan, Mid-Eastern and other tunes (audio samples).
CD 3: SUBTLE HINT: Progressive World, including electric & acoustic guitar arrangements of classical, world (Balkan, Hindustani classical rag, etc.) and original music.
An original fusion of energetic and adventurous rock, world, classical and other genres on electric and acoustic guitars: RESTLESS RECKLESS AND WILD, Kevin's forth and latest CD.
CD 5: Piano Concerto, Symphony & Sonata Just released (April 22, 2008)! All original classical genre compositions.
CD 7: STRAD TO STRAT II: ELECTRIC VIVALDI (November, 2008) All original classical genre compositions.
Kevin Ferguson's Home Page